How To Cut And/Or Frame Songs,
Podcasts, Movies Et Cetera Under iTunes !
The easiest way to get rid of unwanted applause and other audio sections for now or forever !
First published on the 05th of March 2010
I'm going to show you an easy way to get rid of whatever sections of your audio files that you consider unpleasant or otherwise unwanted. One widely spread example would be 30 seconds of applause to indicate an "in concert" recording.
Step by Step tutorial to cut or frame iTunes songs with built in tools !
If you execute the following steps as described there will be no need for 3rd-party software to make your songs match your individual needs:
---
1. Click on the song, movie or podcast or any other file which you would like to alter on your list of audio or video files in iTunes!

---
2. Select "Get Info" from the file menu or use the " Command + I " shortcut !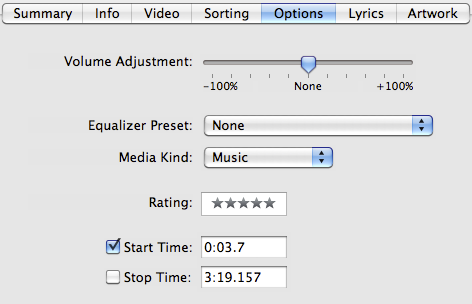 ---
3. Choose "Options" from the available tabs ! ( see image under point 2. )
---
4. Check the "Start Time" box and enter the start time of the portion you want to cut from the beginning of that song, if this is what you would like to do !
---
5. Check the "Stop Time" box and enter the stop time of the portion you want to cut from the ending of that song, if this is what you would like to do !
---
6. Click "OK" !
---
7. Now I recommend to note the "Cut Information" after the song's name so that you know which songs are cut and by how much time !

If you want to be able to "reverse" the process by simply "un checking" the start time and and/or the stop time box, then you are done, just leave it like that.
But if you prefer to make this a permanent cut which would also make you safe some of your disk space, continue with the following step !
---
8. Select "Create AAC Version" from the "Advanced" menu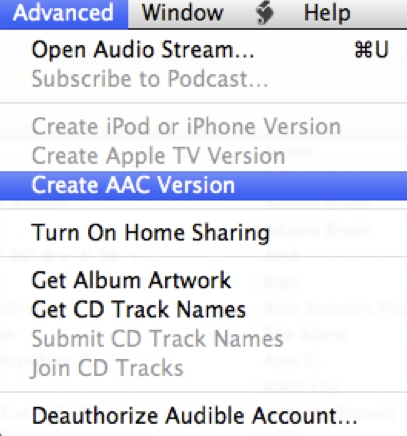 After following these steps, iTunes will create a new file containing only the desired portion of the original file.
Now you can either remove the original file or keep it. If you want to keep the original file, click it, select "Get Info"
from the File menu, click Options, uncheck "Start Time", then uncheck "Stop Time", and click OK and you are done.
---
At this stage we would like to remind you that we strongly believe and thus recommend to use English as your system language. There are a variety of reasons to emphasize this, from which we are gladly going to list a few specially for you, to make an easier decision:
a) You will find solutions to any problem online, which is not necessarily the case in German, Italian, French and so on.
b) The number of available solutions is by far greater in English and more choice, quite often is more quality after all.
c) You are able to improve your English skills
d) You shall better find system files and preferences since they are usually in English, even if you system is in another language.
e) The same applies for content search. Most of the preferences and system files are programmed in English and thus have English content.
As mentioned earlier already, there are some exceptions, but generally speaking, you will be able to use this "Workaround" for most such dialogs.
Magnamentis - Your House Of Five Pundits
---
If your already are an experienced user of "Mac OSX Operating System", then we hope that you will allow us to surprise you with even more new knowledge still, so that you can get more out of your Apple Computer and it's "Mac OSX Operating System".
Please use the little form below to benefit from regular news, hints and tips about the "Mac OSX Operating System" from Apple.

As a little thank you for joining us we would make a special Bonus gift available to you: "The Great iPhone Report" usually sold for €29.50 !