How To Change The System Language Under OSX !
The easiest way to change the main system language under OSX and it's embedded applications !
First published on the 05th of February 2010
Albeit rarely necessary, it still happens that one would like to change the "Main-System-Language" and with it the language for numerous embedded key applications like for example Mail, Address Book, iCal etc., under Mac OSX. To get the maximum out of Mac OSX and/or to have access to the largest possible amount of Know-How and/or Software for Mac OSX, we are recommending to seriously consider accepting English "The Computer Language" and thus as your main system language for your electronic devices, no matter whether it's your mobile phone, your computer etc. This recommendation applies at least to those high-end users with a need or a demand for the most sophisticated edge technology at the time.
Step by Step tutorial to change the system language in OSX !
Please execute the steps as described hereafter precisely, carefully and in the correct order of their numeration :
---
1. Click on the "Apple Logo" in the main menu bar, and open "System Preferences".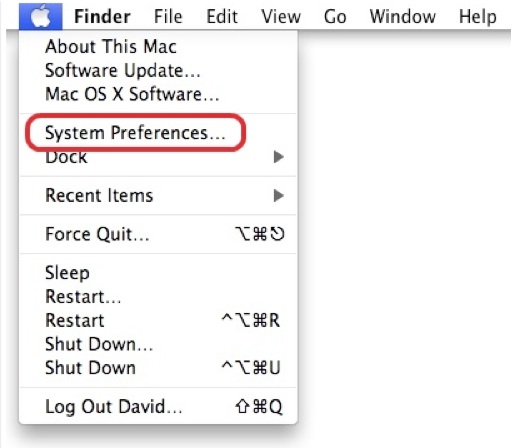 ---
2. In System Preferences choose the "International" preference pane.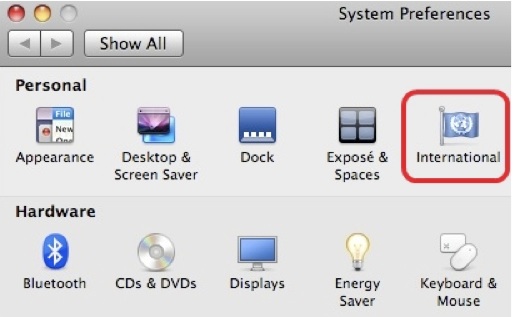 ---
3. As you can see it's really easy now to change the languages of your system.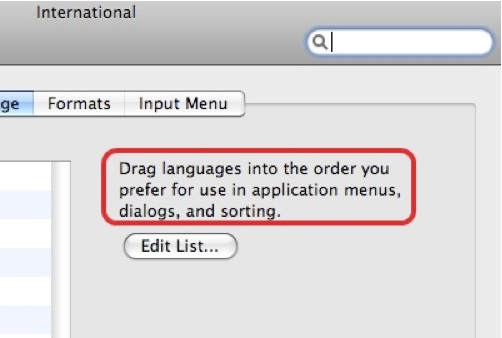 ---
4. For demonstration purposes I will switch the system language from English to Chinese "By dragging the Simplified Chinese on top of English".


On the left you see how it was looking before and on the right side how it should look now.
---
5. Nothing changed? Here is why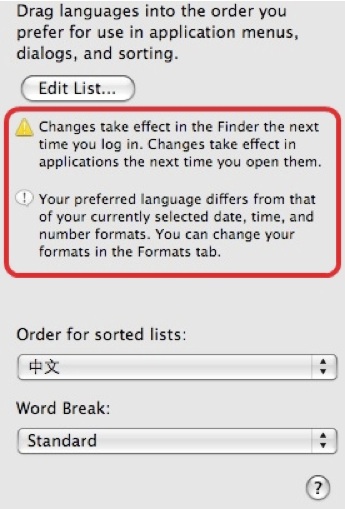 ---
6. Want to see the changes straight away "Without Logging Out"? No problem, quit system preferences before doing anything else.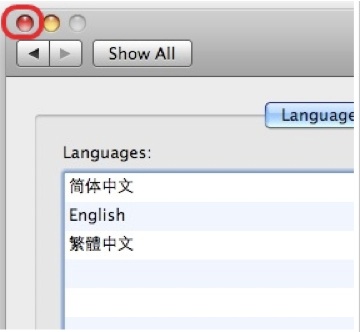 ---
7. Click on the Apple Logo, then click on Force Quit Finder > Select Finder and click on the Relaunch Button > Then click on the relaunch button Again !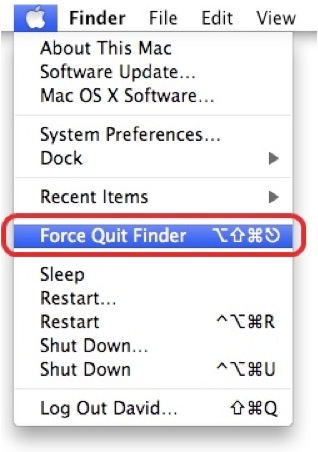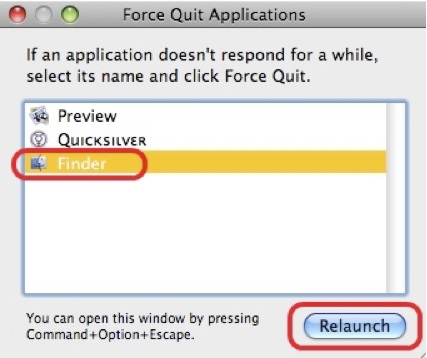 ---
8. Now you should see the changes :-) Enjoy !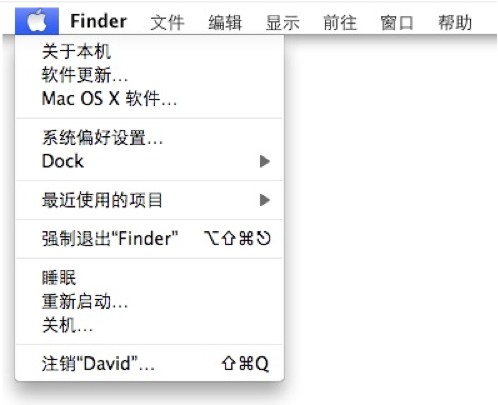 You can find a lot more languages when you :
Click on the "Edit List Button" in the International settings, but not all of them can make changes to the system language.
---
At this stage we would like to remind you that we strongly believe and thus recommend to use English as your system language. There are a variety of reasons to emphasize this, from which we are gladly going to list a few specially for you, to make an easier decision:
a) You will find solutions to any problem online, which is not necessarily the case in German, Italian, French and so on.
b) The number of available solutions is by far greater in English and more choice, quite often is more quality after all.
c) You are able to improve your English skills
d) You shall better find system files and preferences since they are usually in English, even if you system is in another language.
e) The same applies for content search. Most of the preferences and system files are programmed in English and thus have English content.
As mentioned earlier already, there are some exceptions, but generally speaking, you will be able to use this "Workaround" for most such dialogs.
Magnamentis - Your House Of Five Pundits
---
If your already are an experienced user of "Mac OSX Operating System", then we hope that you will allow us to surprise you with even more new knowledge still, so that you can get more out of your Apple Computer and it's "Mac OSX Operating System".
Please use the little form below to benefit from regular news, hints and tips about the "Mac OSX Operating System" from Apple.

As a little thank you for joining us we would make a special Bonus gift available to you: "The Great iPhone Report" usually sold for €29.50 !